Who we are
The development and operation of intelligent web applications based on geo- and real-time data are the strength of geOps. The technical focus of geOps is on public transport, mobility and the environment.
The spectrum ranges from data analysis and visualisation to information systems and business solutions to complete data hubs. With the integration of timetable and real-time data, operational messages and detailed situation plans, geOps offers complete public transport passenger information systems.
When selecting technologies, we have a clear focus on open source. In addition to using open source, it goes without saying that geOps also publishes its own developed products on a regular basis. We also support open source conferences, hackathons and similar events.
geOps customers include transport companies, public administration and well-known international businesses.
geOps was founded in Freiburg im Breisgau in 2002 and expanded to include a branch in Switzerland in 2013. The company currently has around 20 employees. We want to continue growing and are therefore looking for reinforcements for our team.
How we work
At the heart of everything we do is a commitment to technological excellence, sustainability and customer satisfaction.
We strive to deliver outstanding software solutions that exceed our customers' expectations and make them happy and satisfied. After the development phase, we continue this commitment in the operation of software, giving special emphasis to effective support for our customers.
We know that agility is the key to success in a rapidly changing digital landscape. Through an agile mindset as well as the combination of different agile methods, we not only achieve the best possible benefit for the customer, but also promote transparency and flexibility, personal responsibility and independence in the team and thus the satisfaction of our employees.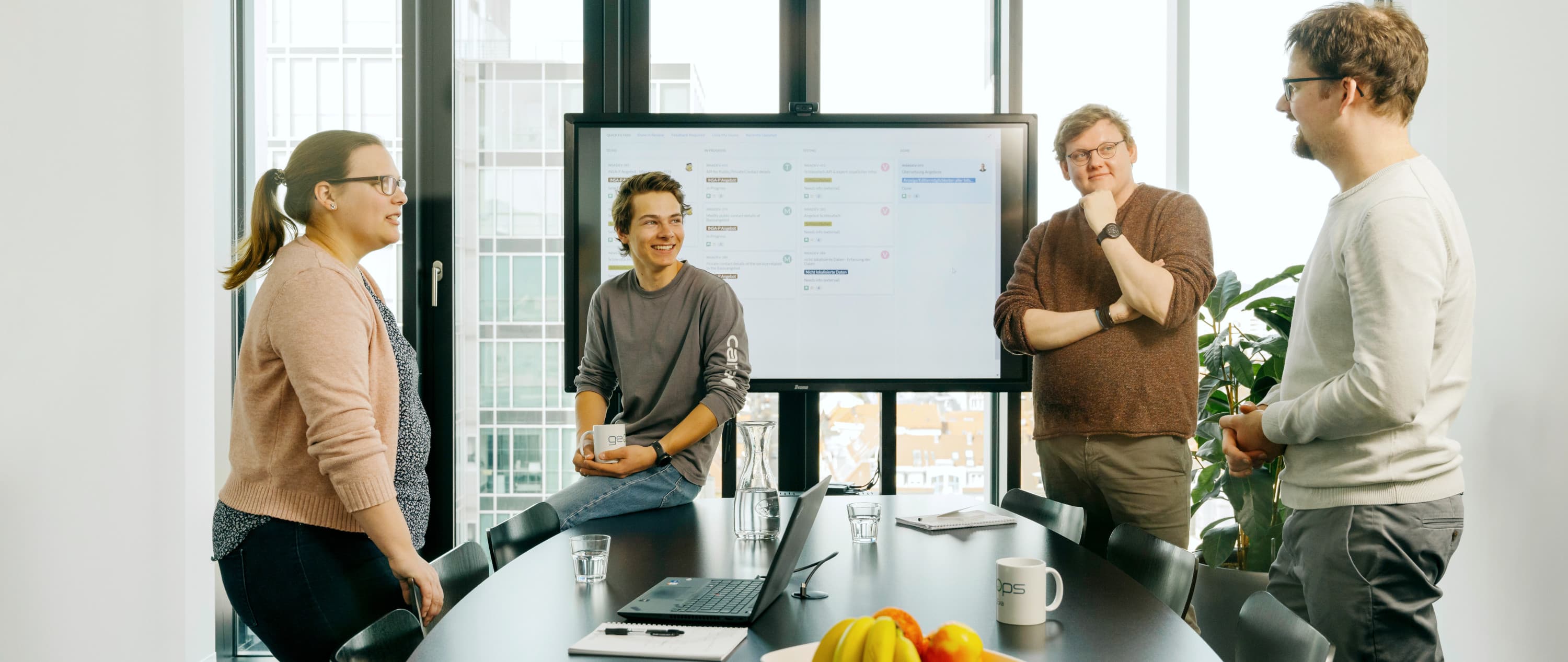 Technologies
Regardless of whether it is front-end, back-end or infrastructure, our goal is to maintain a good balance between being up-to-date and the stability of the applied technologies. We offer our customers modern solutions and at the same time ensure the long-term maintainability of our projects. We are faster and more flexible than the really big companies and yet we don't follow every hype. All techno­logies for our projects have one thing in common: They are based on open source software. Since the founding of geOps we have had access to open source components in the field of web development and geo­data mana­gement that were on a par with proprietary alternatives or that clearly exceeded them in functionality, speed and ease of use.
Sustainability
Our actions are guided by high standards of environmental, economic and ethical sustainability. From using natural resources sparingly to supporting charitable causes and empowering our employees, we are committed to contributing to a better future for all. Promoting open software and open data is a particularly important aspect of digital sustainability for us. Above all, however, it is the projects we work on that directly serve environmental protection and resilience to environmental and climate change, or support environmentally friendly modes of transport and thus the implementation of the transport revolution.